Destination: Koh Lanta
07 .39 N   99.39 E
Koh Lanta's main and best known attractions are the long ans soft sandy beaches on it's west coast. Naturally, over the years many resorts have sprung up and in some places the tourist industry is quite developed although it is in no way over crowded.
In the NE season a yacht can safely anchor just about anywhere along the W coast, particularly in the four or five bays to be found there. Beaching is possible with care as some beaches have scattered rocks.
Koh Lanta is just about the best place in the entire sailing area for topping up your provisions. The somewhat ramshackle boomtown of Saladan on the NW tip has shops not only selling local produce but also niceties like proper bread, wine, cheese etc. Water and fuel can be topped up in Lanta as well.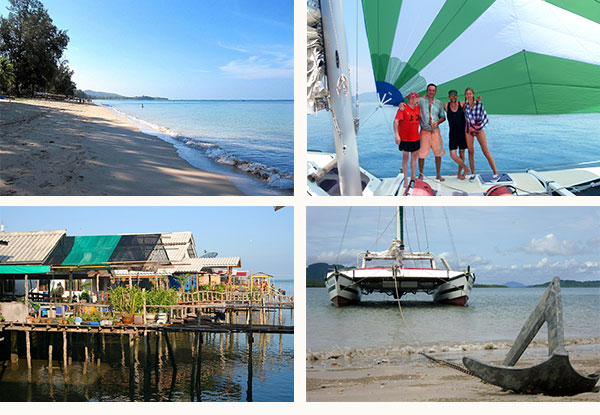 The channel between Koh Lanta Yai and Koh Lanta Noi can easily be traversed on a rising tide. The E coast is much less frequently visited but certainly holds its attractions. The charming old capital of the island, Talad Yai, has some lovely houses and (good) restaurants built on stilts in the water. Fuel, water and provisions can be found here as well.
About a mile to the E lies a group of islands: Ko Poh, Ko Bubu and Ko Kam. Peaceful, quiet and lovely.
Lanta's E coast can be visited year round, the W coast beaches are a lee shore in the SW season.