Destination: Racha Islands
07. 36N 098 .21 E
Twin islands, Koh Racha Yai and Koh Racha Noi, surrounded by clear blue waters, that shaped the characteristic boulder rock formations.
They are separated by 5 miles. Koh Racha Yai lies some twelve miles south from Phuket which makes it an ideal day sail or a last night's anchorage at the end of a charter before returning to base in the morning. Koh Racha Yai is inhabited, Koh Racha Noi is not (except from some wild goats that live there). Koh Racha Yai has two anchorages, one of each is suitable for either season, on the beach and inland you find various restaurants for dining out.
Koh Racha Noi has a really nice and quiet anchorage on the E sidewhich offers good protection in the SW season. There are small beaches to explore.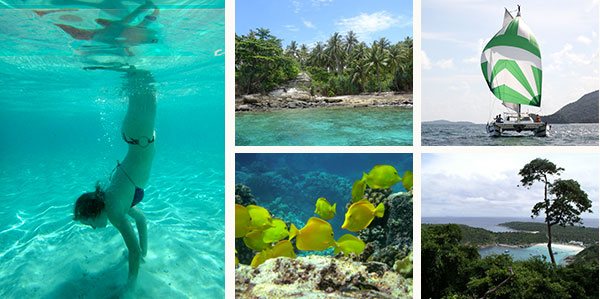 Snorkelling and fishing are both good around the Racha islands. Their beauty and proximity to Phuket make them a a natural destination for day trips from Phuket. During the day time especially Racha Yai can be rather busy. From late in the afternoon onwards until the next morning a few yachts and the odd fishing vessel will be the only boats in sight.