Ao Yon, our home base
Ao Yon, where Siam Sailings has it's operations, is a true little hidden gem of a place, conveniently located at Phuket's South East extremity.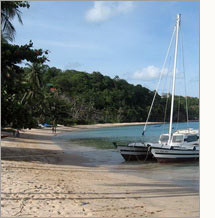 A lovely beach to start your sailing holiday
Well away from the hustle and bustle of the island's tourist area's, Ao Yon is a tranquil small bay offering very good protection in both the North East and the South West seasons.
We have a lovely 1.5 km semi-private sandy palm fringed beach which you will often have completely to yourself. Swimming, also for children, is totally safe. There are absolutely no dangerous currents, high waves or nasty animals.
Come early, start early: your first night on board is FREE
Ao Yon is where you embark the boat, receive an extensive boat- and sailing area briefing and go for a test-drive if you like. Four your convenience, we invite you to arrive the day before your charter starts, do all your shopping and get yourself and your luggage settled on board at your leisure. That way your first night on board is FREE, you can sleep on the boat and be completely ready and relaxed to start your sailing holiday the next morning!
Convenient all-tide shore access
Ao Yon's beach provides convenient all–tide access to your charter boat.

Two characterful wood & bamboo beach restaurants (The Secret Cove and The Shipp's Inn) serve delicious food (Thai & European) as well as very cold beer, cocktails and a grand selection of other drinks. All that at very reasonable rates. Cheap (aircoed) beach bungalow accommodation is available in Ao Yon itself. More upmarket hotels can be found nearby.
You will find Ao Yon a perfect place to start and finish your charter.