Tiki 38 charter catamaran: Heaven for up to 7
Natural living & sailing in Thailand
The typical charter catamaran offered on the market seems primarily designed around western style living comforts rather than sea worthiness and sailing abilities. Such charter catamarans tend to be large, have plenty of ensuite sleeping cabins, perhaps air conditioning and big engines too. Unavoidably, they are heavy for their size. They certainly do offer all the comforts of a villa but unfortunately often have the sailing abilities (and the charter price) of a villa too! Do you really want to charter an expensive sailing boat that does not sail well?
So, is this a case of "less is more"? We certainly do think so. A Tiki 38 is much lighter, will sail better, and yet have more practical outdoor living space than any regular charter cat of comparable length. And you can beach her too.
A Tiki 38 catamaran is, as we see it, the ideal Thailand sailing charter yacht for groups up to 6-7 people. Easy to handle, fast & fun sailing in open water and highly manoeverable in close quarters. Shallow draught and the ability to take the ground open up the possibility of exploring places well away from the crowds. A huge deck and excellent sleeping cabins. All the necessary creature comforts for truly tropical sailing, notably a large bimini and a big fridge!


The only thing that is "less" about a Tiki 38 is the charter price. A lot less.
Your yacht at a glance
a Tiki 38 catamaran is just perfect for outdoor living. The slatted decks offer plenty of space for all on board and the bow nets are coveted places for lazing and relaxing. The unique boarding ladder gives easy access for swimming, a second boarding ladder between the bows allows you to get off the boat without getting wet when the boat is semi beached.
You have a choice of two rigs: one T38 has a "standard modern catamaran rig" with a heavily roached fully battened bermuda main and a fractional jib. The other has a "softwing sloop" rig which has a short gaff and the luff of the main sail sleeved around the mast. Jibs are roller reefed, a gennaker with snuffer for easy setting and dousing is great for light down wind work and is part of the standard sail inventory.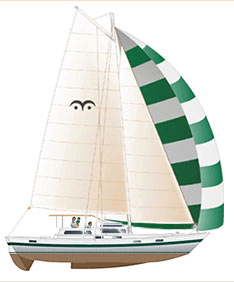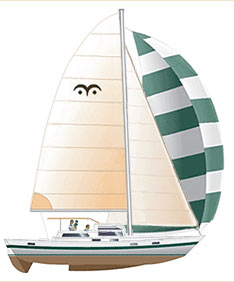 Engine power is provided by a marine diesel which drives twin propellers via a hydraulic system. Maneuverability is outstanding. There is a powerful electric anchor winch ( 2 anchors and plenty of rode), 500ltr fresh water capacity in two tanks, a 100 ltrs fridge, the necessary electronics and a well equipped galley too.
You'll find the boat's inventory impressive.
Your Tiki 38 catamaran has in each hull a comfortable double cabin as well as a spacious private single cabin. In addition the deck cabin has a large double bed. Though she will sleep 8 adults if needed, 6-7 is a comfortable maximum. Cabins are light and airy with opening hatches and portholes. In addition there is an electric fan over each bed. Each bed has it's own reading light too.
There is one enclosed shower/toilet compartment with vanity basin and mirror, additionally, there is a second fresh water shower on deck.
The galley is very well equipped, spacious and cleverly laid out with ample worktop space and storage. There is a two burner cooker with flame failure cut-outs.
Cockpit is large, deep (safe for children) and well shaded by a fixed bimini. The bimini can in minutes be extended to a full-size awning for use when at anchor.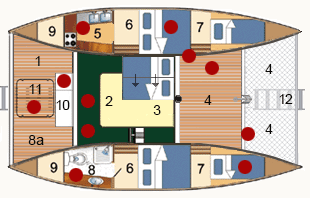 1. Aft deck
7. Single Cabin
2. Cockpit with bimini
8. Shower/Toilet
8a. Deck Shower
3. Deck cabin
9. Storage
4. Fore deck & netting
10. Fridge
5. Galley
11. Swim ladder
6. Double Cabin
12. Forward boarding ladder
Specifications of the Tiki 38



Design:
modified Wharram Tiki 38
Suitable for:
6 to 7 persons
Built by:
Sea Scape Co. Ltd., Phuket in 2001
LOA:
11, 60 m/ 38 ft
BOA:
6,20m/ 21 ft
Draught:
0,75m/ 2ft 6in
Accommodation:
2x double cabin; double bed in deck cabin
2x single cabin
1x shower/toilet, 2nd shower on deck
Rig I:
catamaran sloop, fully battended main, roller furled fractional jib
Rig II:
softwing sloop rig , roller furled jib
Sail area:
working sails 55 sqm / 592 sqft
Cruising chute:
37 sqm / 395 sqft
Engine:
26 HP 4 cyl Kubota marine diesel, fresh water cooled
Drive:
Twin circuit hydraulic drive by ARS, UK
Speed under sail:
cruising 6-8 kts, peaking 12 kts +
Speed under power:
6- 6 1/2 kts @ 2200 rpm
Fuel consumption:
3 ltr /0,71 gall per hour
Water tanks:
2 x 250 ltr/ 66 gall
Drinking water supply:

72 ltr/ 19 gall
Diesel tank:
1 x 128 ltr/ 23,5 gall, 20 ltr spare
Refrigeration:
1 x 100 liter/23,5 gall, electrically driven
Electrics:
12 volt DC mains
Mains batteries:
2x 150 amps domestic
1x 100 amps engine start
Anchoring:
Electric windlass, remote control. 25 mtr chain, 40 mtr rope
Buegel main anchor, 26 kg. Bruce second anchor, 12 kg
Electronics:
GPS, graphic depth sounder (both Garmin), VHF, inverter 12 to 220 Volt,
mobile telephone
Entertainment:
CD player
Tender:
3,0 m lightweight RIB
RIB Outboard:
3 hp Yamaha Malta, 10 ltr fuel included
Inventory:
Click here to see full inventory list