Thailand: carefree sailing in the tropics 
A sailing charter along Thailand's West Coast with one of Siam Sailing's catamarans is an unforgettable experience. Starting from Phuket your sailing holiday will soon turn into an exciting journey of exploration.
Easy sailing around Phuket
All the clichés, well known from the holiday brochures, apply: pearly white beaches fringed by coconut palm trees, tropical islands covered in primary forest, gin-clear waters which are outstanding for snorkelling. A benign climate enables year-round sailing. And then there is the food: the Thai cuisine is probably one of the best in the world and dining out is so cheap that for that reason alone you'll rarely cook yourself!

The sailing is really easy and relaxing: the waters are well charted, tidal ranges are small, there are no strong currents, and there is an abundance of sheltered anchorages with excellent holding ground. Crowding of anchorages is completely unknown, more often than not you will have your private bit of paradise completely to yourself. Like many others: after one charter in Thailand you are likely to come back year after year.
Freedom wherever you go
A bare boat trip means total freedom. After you have boarded your catamaran in Phuket the program of your sailing holiday is entirely up to you. There are no restrictions as to where you can go. From the fabulous Butang islands in the South to the Similan & Surin islands in the North, you can cruise wherever you like.
If you do not consider yourself a skilled sailor, no problem, we are happy to provide you with a skipper. Added benefit is that you can use his local knowledge to your advantage . All our skippers speak good English.
If you feel like really being pampered then consider a crewed charter with one of our Tiki 38's. A skipper to take care of the handling of the boat and a cook who never seems to stop serving yummie food and snacks!
Throughout the vast cruising area it is no problem at all to obtain basic neccessities like fuel, water, fruit and vegetables. They can be found on many of the islands. The waters are teeming with fish which you can catch yourself (lines & lures are provided by us), or which you can buy or barter with fishermen.
Most of the islands will also have one or more cheap beach-side restaurants where you can have a splendid meal for only a couple of dollars.
The land of smiles
The Thai people are legendary for there friendliness, Thailand is often called the Land of Smiles and rightly so. There is absolutely none of the harassment yachties often seem to encounter in some other countries and crime against pleasure boaters is virtually unknown. You'll soon start smiling yourself too!
Phuket, the only developed island on the coast has excellent nightlife, shops, markets, restaurants and, if you like, marina facilitie.
Thailand's cruising grounds cater to all tastes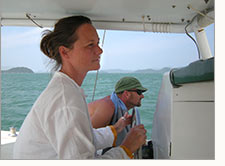 To the SW of our base in Phuket you find open water with a few dotted islands such as Koh Racha and Koh Rok Nok. To the South East of Phuket there is a 100 nautical miles long string of inshore islands, stretching from Koh Phi Phi to the Malaysian border. They offer tranquility and many opportunities for exploring. Highlights are Koh Muk with a fabulous inland lagoon, Koh Petra with spectacular limestone formations and Koh Tarutao a former pirate's nest boasting a large formation of caves.
East and N. East of Phuket Island, the fabulous Phang Nga Bay, Krabi and Phi Phi, together form an area of about 500 square miles. It has sheltered sailing in all seasons. The entire area is dotted with grotesque lime stone formations, honeycombed with caves and fringed by mangrove forests. Three major rivers plus a lot of smaller ones flow in the Phang Nga Bay.
For extensive detailed info about the sailing area, please see our interactive Charts.
Catamaran country
This is very much catamaran country: one could cruise here for many months exploring the creeks, going up the rivers and drying out in the mangrove forests. A typical feature of this area are the hongs: high limestone islands which in acient times have collapsed in the middle, thus leaving a landlocked lagoon. Several of these lagoons are accessible by dinghy or kayak at low tide via a cave like Koh Hong in Phang Nga Bay. Further attractions are Rai Leh Beach said to be one of the most beautiful in the world, and the well known Phi Phi Islands, all of them offering gorgeous surroundings as well as great but laid-back nightlife.
For detailed descriptions of the many islands, check out the section interactive Charts.

Climate of Thailand and Phuket
Thailand has two distinct seasons: the "dry" monsoon from November - May with predominantly light to moderate NE winds, temperatures are around 30 degrees C. The "wet" monsoon from May - October with SW winds, sometimes quite strong, produces a fairly large swell on the open sea. In this season there are sometimes squalls which, when cruising in open water, require a skilled crew to cope with them. Large inshore areas still allow easy, sheltered sailing. Weather conditions in the "wet" monsoon are generally surprisingly good. Although you can expect some rain this usally comes in short squalls. Prolonged periods of rain are rare.